Project SLAM
THE PURPOSE OF THIS website IS FOR COMMUNITY MEMBERS AND USERS TO KEEP ABREAST OF THE LATEST DEVELOPMENTS OF THE STATE LIBRARY ARCHIVES MUSEUM (SLAM) PROJECT IN JUNEAU, ALASKA. PLEASE VISIT OFTEN TO SEE THE LATEST POSTS.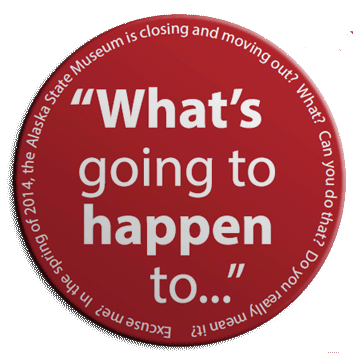 Wondering what's going to happen to the current museum
and all the stuff that's in it?

Click the big red button to find out.
The Project
SLAM; a project to integrate the three units of the Division of Libraries, Archives and Museums, is becoming a reality. At its heart, SLAM is about protecting the existing collections. Many of our treasures, if damaged, are irreplaceable, yet they are housed in buildings that can no longer adequately protect them. Existing hazards to the collections include: overcrowding; flooding; water damage; friable asbestos; insect infestations; and uncontrolled or inadequate systems for humidity, fire protection, heating and lighting.
Contact project staff by phone by calling 907-265-2921. You may also e-mail the project.
The Funding
Funding for the SLAM project has been gradual but steady. Phase one of construction is currently underway.
Funding Details

Currently funded at $101.45M
Additional $37.215M is required to complete the project and fully fund phase 3.
Project is fully negotiated and priced, all phases, for a turnkey facility.
Construction costs, for all phases of work, are guaranteed by our construction contractor through June 30, 2014.

Funding History

Funding for the SLAM project has been gradual but steady and has moved the project to its current phase of construction.
$1.5M Land Purchase 2002 – completed
$1.4M Pre-Planning 2006 – completed
$7.5M Architectural Design 2008 – completed 2012
$18.5M Construction General Obligation Bond 2010 – completed
$5.0M FY12 Legislative Appropriation for Design & Site Development – completed
$20.0M FY13 Governor's Budget – in use
$29.0M FY13 Legislative Appropriation – in use
$20.0M FY 14 Governor's Budget - in use
Building Details
118,000 sf of new construction translates to twice the current space allocation for the Division
61 basement level parking stalls
33 surface parking stalls
Doubling of the museum's exhibition space
Tripling of the museum's collection storage area
Projections show no increase in facility costs despite a doubling of usable space.
If alternative energy goals are achieved, facility costs could be reduced by another 10-15%.